Ohsweken's Friendly Variety Store & Gas Station
Route 54 Variety and Gas is a convenience store and full-service gas station offering a wide variety of products for people on the go. If you are looking for a great cup of coffee, a cold beverage, or fresh food to go, we are the place to visit. We have premium quality fuels. If you need an ATM, or lottery services, please stop by. Our fast and friendly team is always happy to serve you!
Fresh Produce now available!
Updates on our COVID-19 Procedures
We have made some changes to ensure the safety and protection of our employees and customers.
We have new hours at for the gas and store, we are now open Monday – Friday 5:30 am to 11 pm, Sat and Sun from 6 am to 11 pm.
While getting gas, please remain in your vehicle.
Hold your status card up so staff can record your name and card number.
Although we encourage you to use tap, we are still accepting debit, credit and cash. Please remember to wash your cards regularly.
We are now allowing 5 customers in the store at a time. The store surfaces and machines will be cleaned before and after each customer leaves. We will have the door locked when one customer is inside. If a customer is in the store please wait patiently in your vehicle until your turn.
Please use sanitizer upon entry.
We are taking orders by phone or Facebook. We can take payment directly at your vehicle and load your groceries. For those in serious need, delivery is an option (please message or phone us for details).
You can also call or message to make an appointment for shopping in-store. We will clean the surfaces before your arrival and ensure you are the only one in the store for your shopping pleasure.
Just a reminder to our friends and customers residing off the reserve, access coming on to the reserve is limited at this time. You will not be able to come if you are shopping. Check out the Six Nations of the Grand River Facebook site for more information and updates on access to the reserve.
Thank you and stay safe!
MOVIE THEATRE POPCORN
Large $8
Medium $6
Small $4

All prices with or without butter
WEDNESDAY HOT LUNCH

CORNSOUP

$5 per bowl
$5.75 with can of pop

HOT AND READY EVERYDAY!
Hotdog $3.50
Hotdog & can of pop $4.00
Hotdog pop and chips $4.50

Ketchup, mustard, relish, sauerkraut, hot peppers and pickles available
Pleasing Ohsweken Residents & Visitors For 10 Years!
For 10 years, Route 54 Variety & Gas has been Ohsweken's preferred full-service gas station and variety store! Lottery services are also on site.
We are a community-oriented business, which treats customers with respect and even hosts contests, such as our popular Halloween Pumpkin Carving contest. 
Check out what a few of our satisfied clients have to say!
We want to know what you thought about your experience at Route 54 Variety & Gas, visit us on Facebook and leave a review!
"Great service and community values. Love the Halloween pumpkin carving contest you guys do and all the donations you make to the community. Keep up the good work."
"Excellent service friendly staff."
Looking To Become Part Of A Friendly, Community-Oriented Team?
Route 54 Variety & Gas is currently hiring for store and gas station positions!
Looking for reliable, trustworthy workers with great time-management skills and a positive outlook! Please bring resumes with three references to Route 54 Variety & Gas. Hours are part-time weekends and on call throughout the week.
Need more info? Give us a call at: (519) 754-1723
Ohsweken's Variety Store Of Choice!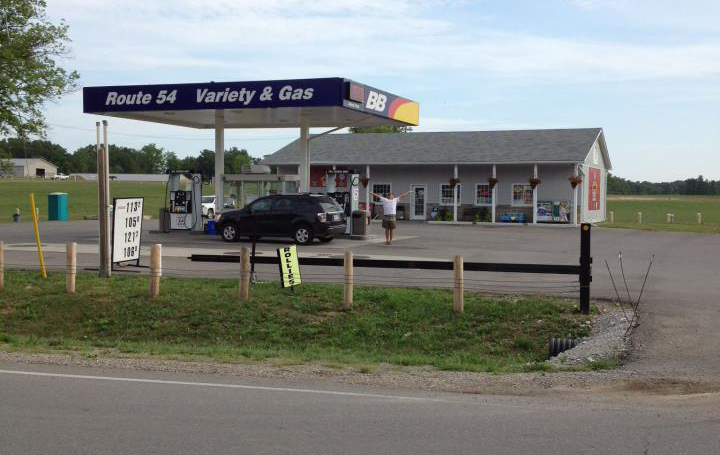 Route 54 Variety & Gas is much more than our recently upgraded full-serve gas pumps. Inside our clean and well-stocked variety store you'll find everything you need under the sun, including a bite to eat, a cup of quality coffee to give you a needed boost, lottery services, road trip supplies, washroom facilities, and so much more! 
We look forward to being your preferred Ohsweken gas station and variety store for years to come!
Need more info? Give us a call at: (519) 754-1723
1086 Highway 54,
Ohsweken, On
N0A 1M0